Biography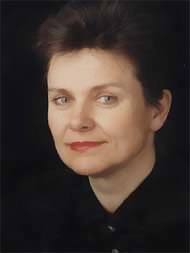 1949
1967
Graduates from the high school on Namesti Miru in Prague
1967
1973
Shows her diploma work in porcelain factory in Lesov
1974
First exhibition, at the Galerie Mladych (Youth Gallery) in Manes (Prague)
1975
Takes part in an international ceramics symposium in Bassano del Grappa, Italy
1977
Wins a gold medal at the International Exhibition of Applied Arts in Jablonec nad Nisou. Exhibits at Galerie Fronta together with J. Walterova
1978
Participates in the international ceramics symposium in Siklos, Hungary
1980
Exhibits with a group of artists at Galerie Am Graben in Vienna and at the Bauhaus center in Dessau together with Jindriska and Pravoslav Radovi. Participates in the international ceramics symposium in Bechyne
1981
Exhibits at the Gallery of Fine Art in Cheb with Jindriska and Pravoslav Radovi. Is awarded the silver medal at the International Ceramics Exhibition in Vallauris, France
1982
Exhibits at Gallery Fronta together with Jindriska and Pravoslav Radovi
1988
Participates in the international porcelain symposium in Karlovy Vary. Participates in the sculptural ceramics exhibition in Vojan Gardens in Prague
1992
Becomes a member of Umelecka beseda (Artists Group) and from this time takes part in all group and members' exhibitions. Exhibits in Naarden, the Netherlands, in the J.A. Komenius Museum, with a group of sculptures devoted to Komenius and his works. Exhibits with the group Art.i.um in the halls of the Parliament building in Paris
1993
Exhibits in Galerie U prstenu together with Jan Kavan
1994
Participates in an international porcelain symposium at
porcelain plant
in Louny. Begins to use technical porcelain exclusively. The majority of sculptures originate in the halls of the company Elektroporcelan in Louny. Participates in an exhibition in the framework of AIC at the House at the Stone Bell in Prague
1996
1997
Solo show in the vestibule of the Town Hall in Wolfsburg, Germany
1999
2000
Participates in the stone-sculpture symposium in spongelit, organised by the
Rabasova Galerie
in Rakovnik. Begins to use papier - mâché as a sculptural material
2001
Solo exhibition in Galerie Chodovska tvrz in Prague. Participates in the Czech exhibition at
the Broomhill Art Gallery
in North Devon, England. Exhibition in the Castle Jindrichuv Hradec July - September 2002.
2002
Solo exhibition in Galerie and Museum Breclav, southern Moravia. Participates in Keramuze 4, De Bilt, Holland, June 2002
2003
International ceramics exhibition in
Zámeckých sklepích
in Cesky Krumlov, May - October 2003, Exhibition in An International Museum of Ceramic Art in Bechyne in honour of Pravoslav Rada
2004
Solo exhibition in Galerie U zlateho kohouta
2005
Solo exhibition in Atrium, Prague; Gedok group in Karlsruhe Museum, Germany; solo exhibition in Ostrava, Czech Republic; Ceramic exhibition in Piaristen, Wiena
2006
City Hall Gallery Praha 3, exhibition of porcelain statues. Exhibition in the Praha City Center, Praha 1.
2007
-
2008
-
2009
Litomerice together with Jindriska and Pravoslav Rada, Residence stay in the International Ceramic Studio in Keczkemét, Hungaria, (Visegrád gond).
2010
Participates in exhibition of garden sculpture in Roztoky Castle. International Ceramic Symposium in Fuping-China.
2011
Participation in Garden sculpture in the Gallery Klenova, cz and in the Czech Ceramic in the Centrum Giroussens in France
2012
participates in exhibition Paper and Clay, Town Gallery in Pilsen, cz, International Ceramic Symposium, Bechyne
2013
participates in exhibitions in Clam Gallas palace in Prag, Ceramic Symposium in Kalinovo. Slovakia, participates in exhibition UB State Gallery Litomyšl, Intersymposium Bechyně in Gallery Nová síň, Prague
2014
participates in Garden ceramic sculpture exhibition in Roztoky by Prague, solo exhibition in gallery Reistna, Valtice, Gallery Malovany dum, Třebíč with painter František Hodonský